¡Buenas! Hi!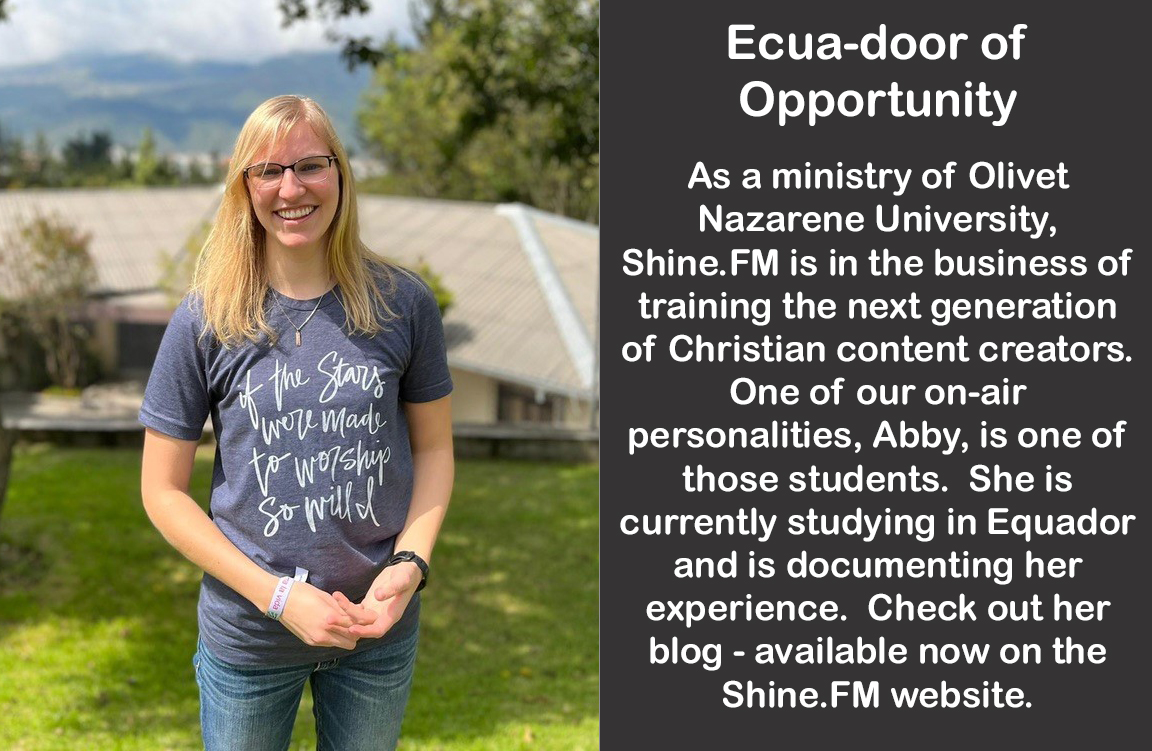 God's blessings to you and the people special to you. Our Father loves us so much to lavish us with undeserved gifts, including precious friends and families!
 
This past week I was well-reminded of this treasure … I miss my family so much. Our trips are the coolest times we have here but also the most difficult for me because I think of my family constantly, wishing we were exploring the world together.
 
Galapagos is crazy because it's like a fantasy. Most people dream of visiting their entire lives, as it is one of the most unique places on earth, full of especiesendémicos (endemic species, ones found only on The Enchanted Islands of Galapagos).
 
The flora y fauna of Las Islas Encantadas are diverse, vibrant, and accessible. Lobos marinos (seals) crowd beaches, rocks, and sidewalks. Cangrejos (crabs) cover piedras and stone walls. Pelícanos (pelicans) perch on railings, occasionally flapping noisily into the water for a catch.
 
Then there are flowers and birds of every kind and many types of lagartijas (lizards). Along one path, we counted 116! Larger iguanas laze around in the sunshine, the marine ones hanging out closer to the beach.

All the animales (animals) are marvelous to observe so close, my favorites being the sea turtles (tortugas marinas) and Galapagos sharks (tiburones). During one snorkeling expedition, we spotted four sea turtles in clear water, and we swam with even more at Tortuga Bay. In the puerto (port) at night, we peered over the dock to see dozens of sharks chasing small schools of fish under the lights.
 
And of course, we visited the massive Galapagos land tortoise (Tortuga gigante de las galápagos). They begin their lives so tiny, protected within conservatories and separated by stages of growth. Additionally, in some areas the giants roam free, chewing vegetation, stomping, and snorting (I'm not sure what else they do, besides sporadically entering the watering hole and covering themselves with mud, nature's sunblock and insect repellant). While there, we had to honor the renowned Solitary George, the last known turtle of his species, which went extinct with his death in 2012. His body is preserved via taxidermy in a climate-controlled enclosure.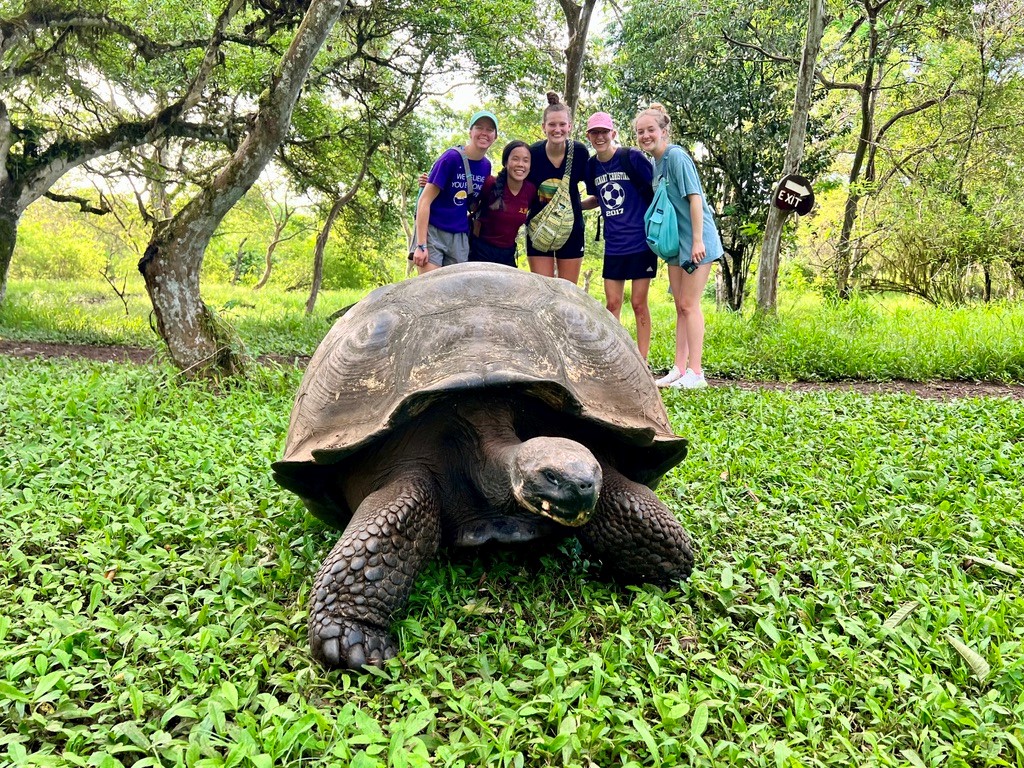 Most of the week we walked and swam. It was my type of trip, although tiring at times! We visited volcanic sites (now lakes and canyons) and cactus forests, beaches and boardwalks, harbors and airports. It was a full package.

The itinerary began as soon as we landed, passed inspection, and plopped our maletas (suitcases) in the hotel room. Each morning we embarked on a tour of some kind, then took a midday break for lunch, followed by another activity in the afternoon. The first morning, we glimpsed a full array of Galapagos life—seals, pelicans, iguanas, crabs, sea turtles, and manta rays—en route to our destination.
 
One day we climbed for a spectacular view of the island and ocean. We snorkeled, swam, and explored. Another day we used the snorkel equipment in a ravine—salty ocean water and fresh rainwater trapped between two rock walls. Las Grietas, as the gully is called, is relatively clear viewing and home to various types of fish! The experience was calming and eye-opening. A whole entire world exists beneath the water's surface, and it was amazing to witness.
 
Part of the daily agenda, naturally, was food. Every restaurante offered fish (and often other seafood). We enjoyed brujo, langostino, pulpo, and calamar, (a bright red scorpion fish, crayfish, octopus, and squid), plus the usual soup, rice, and salad. I must admit, it felt strange consuming hot soup in a hot climate, but it was delicious nonetheless.
 
It was also a delight to browse the shops, admiring works of art and items unique to the island. Our final day, we walked through the museum and research center dedicated to Charles Darwin. He is considered the "father of science" for introducing the concept of natural selection and creating the theory of evolution. I know this is important for the world, but as a Christian, I felt the pain of Romans 1—human beings confusing God the Creator with what He created, suppressing His plainly-revealed truth and choosing a lie. I desperately want people to know the truth and see God's character when they experience nature, rather than credit man or random force to the perfectly designed and delicately maintained universe.
 
God's Provision: As Maker and Sustainer, God is both transcendent and immanent—apart from and superior to His creation yet continually active within it. I marvel at our all-powerful, loving Lord who faithfully provides for every creature, oversees every cycle of life, nurtures the balance of every ecosystem—and considers man above all, is mindful of his coming and going, cares to number the hairs of his head. What an amazing Father we have.
 
Palabra de la Semana (Word of the Week): Malecón. Pier. On the islands of San Cristobal and Santa Cruz we explored the boardwalk, lined with stores and restaurants parallel to the shore. In Guayaquil (a city in continental Ecuador, where we spent an afternoon on our way back to Quito), we strolled through a fair. Crowds of people milled around vendors, food trucks, popcorn carts, games, and rides, a bit like Navy Pier. The malecón is a dynamic way to experience Ecuadorian subculture.
 
In Guayaquil, we visited a tourist neighborhood, stopped for coffee and dessert, and rode across the river and back. It was a special time God arranged for us between flights on our return trip.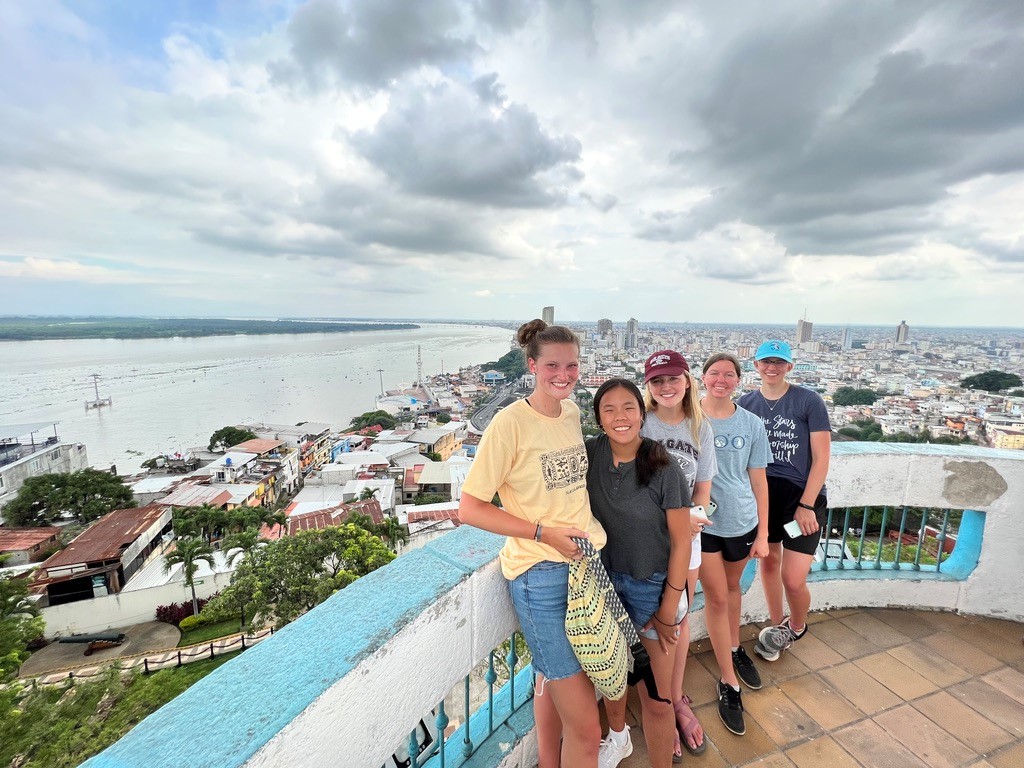 After a week of adventures, we return to classes and family life. It is a blessing to be here! I am asking God to help me stay present and fulfill my mission in this time.
"Therefore, my beloved brothers, be steadfast, immovable, always abounding in the work of the Lord, knowing that in the Lord your labor is not in vain" (1 Corinthians 15:58, ESV)
¡Servimos con gozo! We serve with joy!
Abby