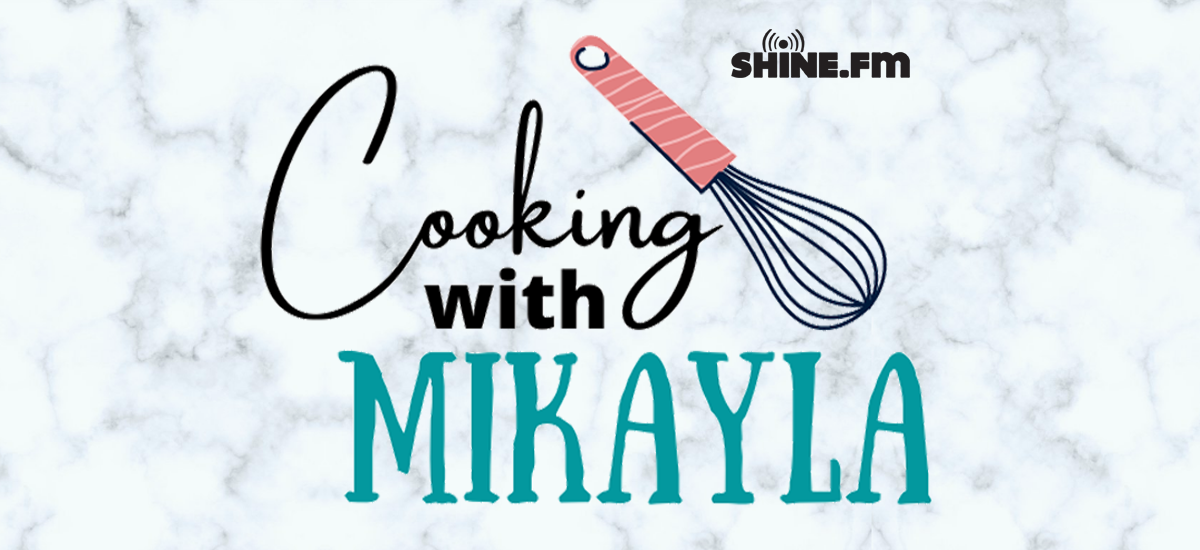 I remember the family dinners that my family would have growing up. When I was young, my parents would work so hard to get us around the table every night. But as we all know, schedules get busy, and family dinners become more of a special occasion.
Did you have those family dinners as a kid? But, see, when you grow up, you know, like I do, that they don't last very long.
Nowadays, I rejoice when my family gets to have one of these dinners together. Anytime I go to my parents' house, I make sure my sister and brother-in-law come over for dinner too. So the five of us gather around the table, and it is such a special moment.
And what happens around that table? Well, life does! We tell stories about the past and talk about the future. Maybe you have a young family still. I encourage you to cherish the table talks and the screams of kids not wanting to eat their veggies (yes, that was me as a kid) because there is beauty in those moments.
So, for this week with cooking With Mikayla, I made dinner for the five of us! We have all loved stir fry for the longest time, and I hope you enjoy it as much as we did. (There were no leftovers!)
Chicken & Mango Stir Fry
What you need:
1 lb. (450g) chicken breasts, cut into
strips
1 tbsp. flour
1 mango, peeled
1 red bell pepper, sliced
1 red onion, chopped
2 cloves garlic, minced
1 small chili pepper, deseeded and
chopped
2 tbsp. ginger, grated
2 tbsp. coconut oil
Rice to serve with. (Your choice of what kind, I tried with cauliflower rice)
For the Sauce:
3 tbsp. of rice vinegar
3 tbsp. of water
5 tbsp. of soy sauce
2 tbsp. honey
What you need to do:
Cut the chicken into thin strips and season with salt and pepper, then coat in the flour. Peel the mango and cut the flesh into strips. Cut the peppers into strips, peel the onion and cut into half rings. Half the chili pepper lengthwise, remove the seeds, then finely chop. Peel and grate the ginger.
Prepare the sauce by mixing all the sauce ingredients in a bowl. In a wok or large pan heat 1 tbsp. of coconut oil, and stir fry the vegetables (peppers, onions, chili pepper, garlic and ginger) over high heat for about 3 minutes. Add the mango and mix, cooking for another 2 minutes, then remove everything and set aside.
Add a second tbsp. of oil to the pan and fry the chicken for about 3 minutes, stirring often. Place the mango and vegetables back to the pan and mix well, then add the sauce. Cook on high heat for about 2 minutes until the sauce thickens, in the meantime mix often.
Serve with rice.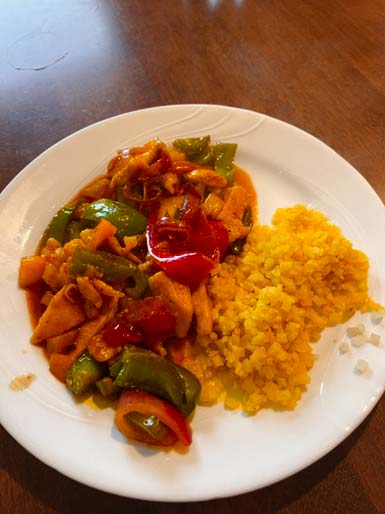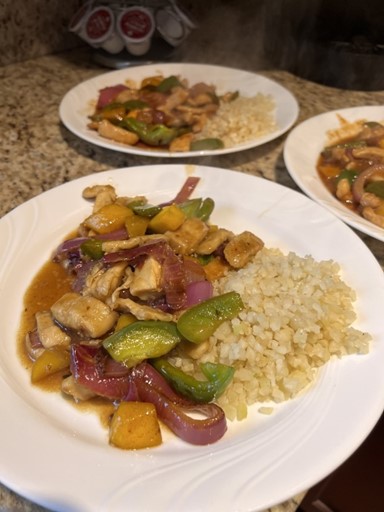 I will love to hear if you make this! Contact me at Shine.FM by texting 855-987-4463 and make sure you say, "Hey Mikayla"!