Date:
December 4, 2021 12:01 am - December 5, 2021 11:59 pm
Location:
Hwy 49 and Hwy 8 Kouts, IN
Details:
Come to Kouts, Indiana on the first Saturday in December for the Annual Kouts Christmas Open House. You are sure to find something for everyone on your list! This event features handcrafted unique items and homemade Christmas goodies for sale in homes, churches, and businesses throughout the Kouts area. For more information check out the Kouts Festivals & Events Facebook page at www.facebook.com/koutsfe. You can also contact them at koutsevents@gmail.com.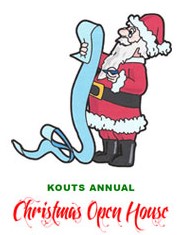 Return to Events