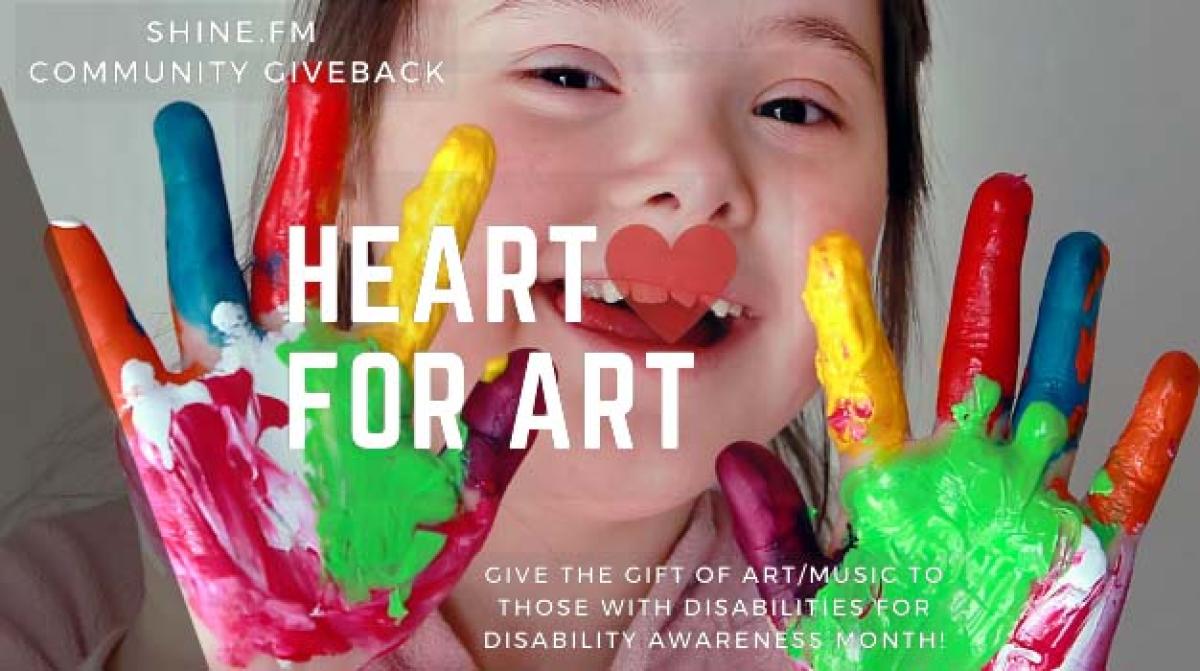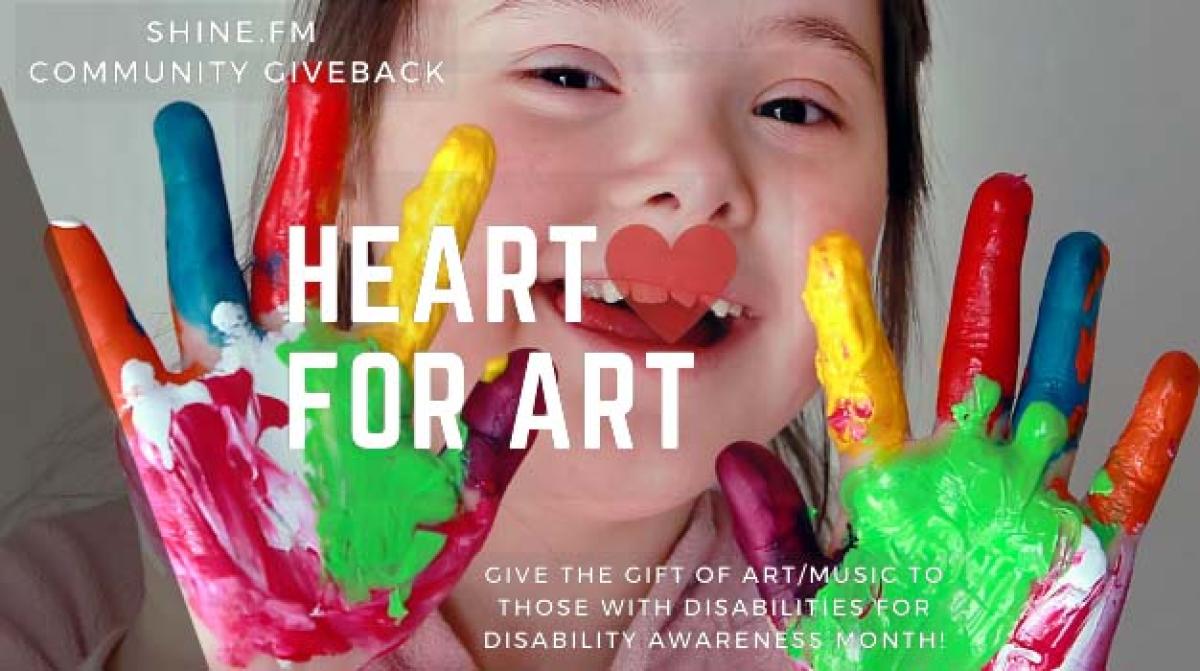 Date:
February 20, 2023 12:00 am - March 31, 2023 11:59 pm
Location:
1 University Avenue Bourbonnais, IL
Details:

Information: During the month of March, Shine.FM will be collecting new and gently used art/music supplies for our Heart for Art Campaign in honor of Disability Awareness Month. These supplies will be donated to several facilities that specialize in helping people with different disasbilites.
Spring into the new season with us by donating to our Heart for Art Community Giveback. We will be donating brand-new or gently used music and art supplies to facilities that specialize in helping the voices of artists with disabilities. Items will be collected at Shine in Your Community events, as well as the Shine.FM studio in Bourbonnais, IL. It takes a team, and when you partner with Shine.FM, you are partnering with them. Contact our Listener Engagement Director with questions.
Merchant Street Art Gallery
Location: 356 E. Merchant St. Kankakee, IL 60901
Contact Information: 
Name: Philip Wiersma 

Phone Number: 815-685-9057
Items Needed:
Clay (preferably air dry)

Acrylic paint  

Outdoor paint  

Craft wire 

Sketching supplies (pencils, erasers, etc) 

Watercolor paper 

Watercolor board  

Markers

Craft glue (preferably tacky or super glue)
Center of Possibilities
Location: 22 Tyler Ave. Hobart, IN 46342
Contact Information: 
Name: Cherish Edwards

Phone Number: 219-962-5751
Items Needed:
Jugs of clear glue

Markers

Crayola crayons (all types: fat skinny, any colors)

Canvases

Watercolor paints

Black sharpies

All sorts of paintbrushes

Acrylic paint

Any kind of craft kits

Stickers

Basically any/every craft supply (google eyes, pipe cleaners, felt, paper bags, paper plates)

 Any preschool instruments (bells, drums, tambourines, maracas)
Trinity Services
Location: 301 Veterans Parkway New Lenox, IL 60451
Contact Information:
Name: Sherry Ladislas

Email: sladislas@trinityservices.org

Phone Number: (815) 717-3750
Items Needed:
Any percussion: Drums, hand drums, sticks, drum heads, cymbals etc.

String instruments: acoustic or electric guitar, bass, ukulele, etc.

Guitar amp

Electric keyboard and headphones
Art Mix- Mail Items Only, No Drop-Off
Location:  1505 N Delaware St. Indianapolis, IN 46202
Contact Information:
Items Needed:
Reach Studio Art Center
Location: 1804 S. Washington Ave, Lansing 48910
Contact Information:
Items Needed:
Return to Events