Date:
April 29, 2022 8:00 pm - 10:00 pm
Location:
1017 S. State Street Lockport, IL
Details:
We're excited to bring clean, family friendly comedy back to the historic ROXY Theatre in Lockport!
Tickets are only $25 for 2 hours of fun for the whole family! Your ticket will also include two vouchers for soft drinks. Featuring the incredible comedian, speaker, author, and now-closed bakery, Tracy DeGraaf! Referred to as one of Chicago's best clean female comedians and speakers, Tracy has made a name for herself with her one-woman comedy show "Life Happens Laugh Anyway." Her inspirational comedy event combines two of her passions: Christianity and breast cancer awareness. Rebellious Magazine said DeGraaf has the "presence of a motivational speaker and the uplifting message of a preacher. Her everyday experiences resonate with fans who can be seen nodding along with punchline after punchline." The night will also feature members of Well Versed Comedy (@wellversedcmdy), a professional clean comedy troupe based in the Chicagoland area, as well as members of Thrive Church, the sponsor church of RFK - Lockport. In our two shows in 2021, we were able to give over $1600 toward Royal Family Kids - Lockport. Share this Eventbrite page (rfkcomedy.eventbrite.com) or our Facebook Event (https://fb.me/e/2fTMSUjmi) with your family and friends!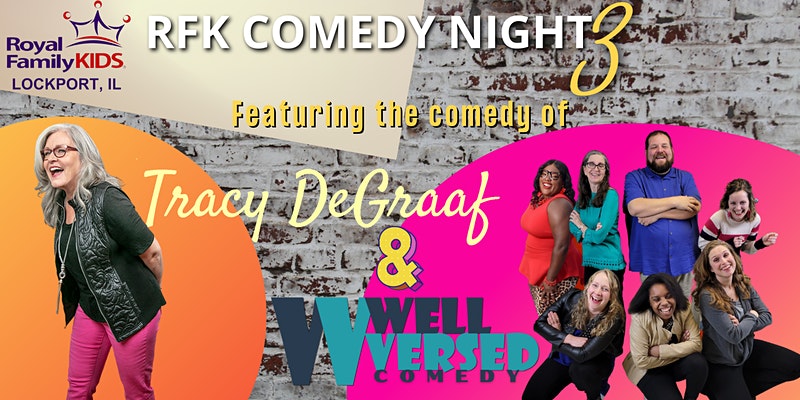 Return to Events