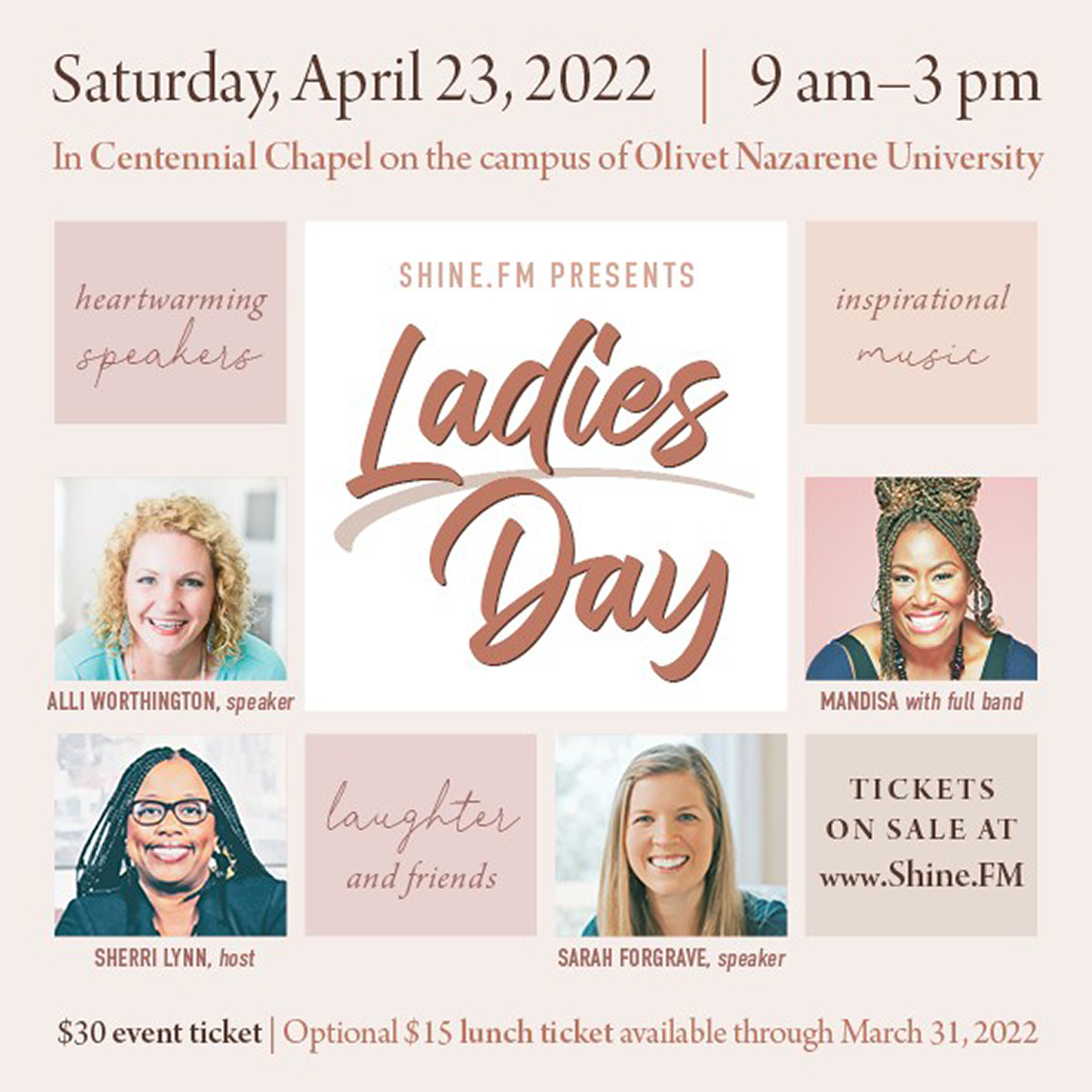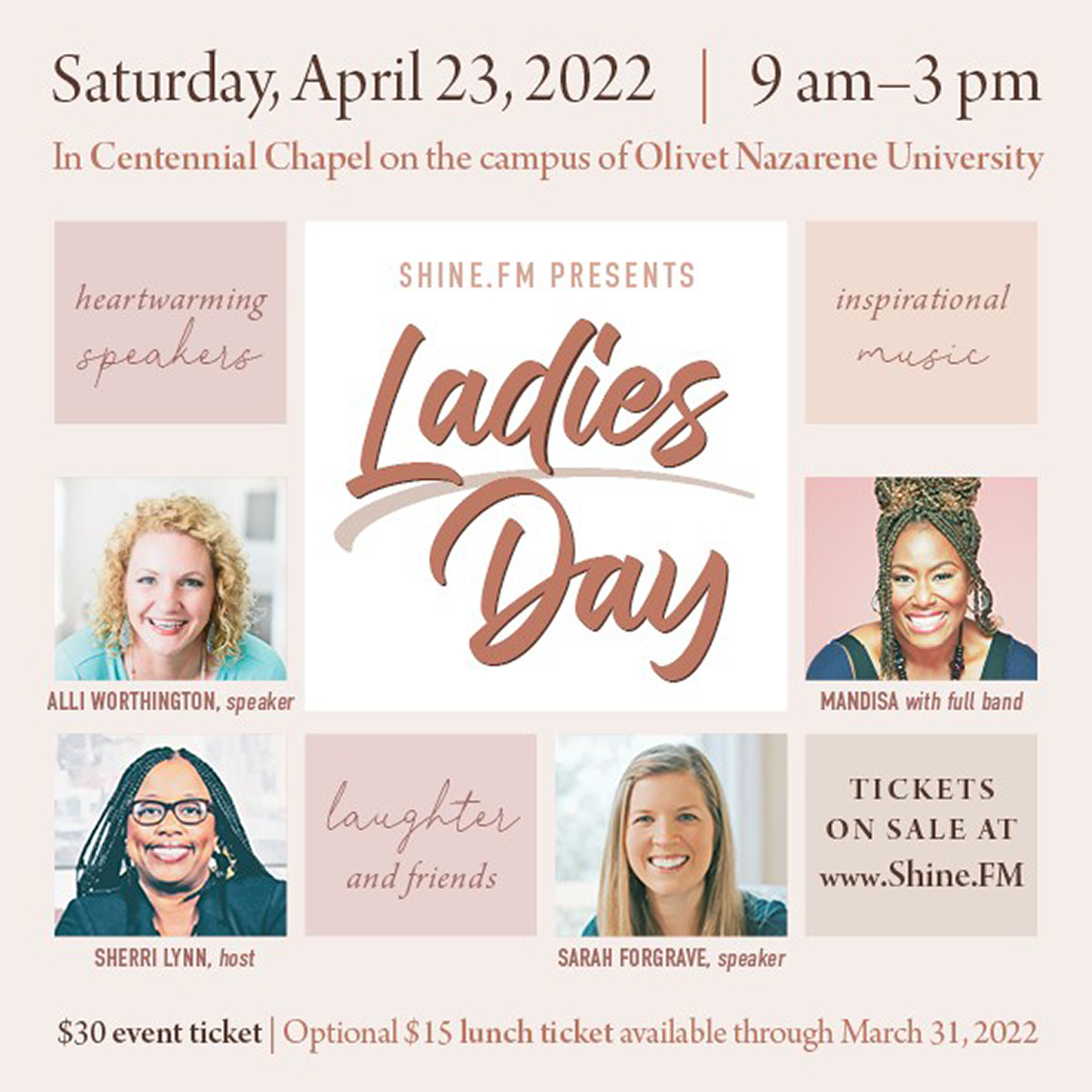 Date:
April 23, 2022 9:00 am - 3:00 pm
Location:
One Universerity Ave. Bourbonnais, IL
Details: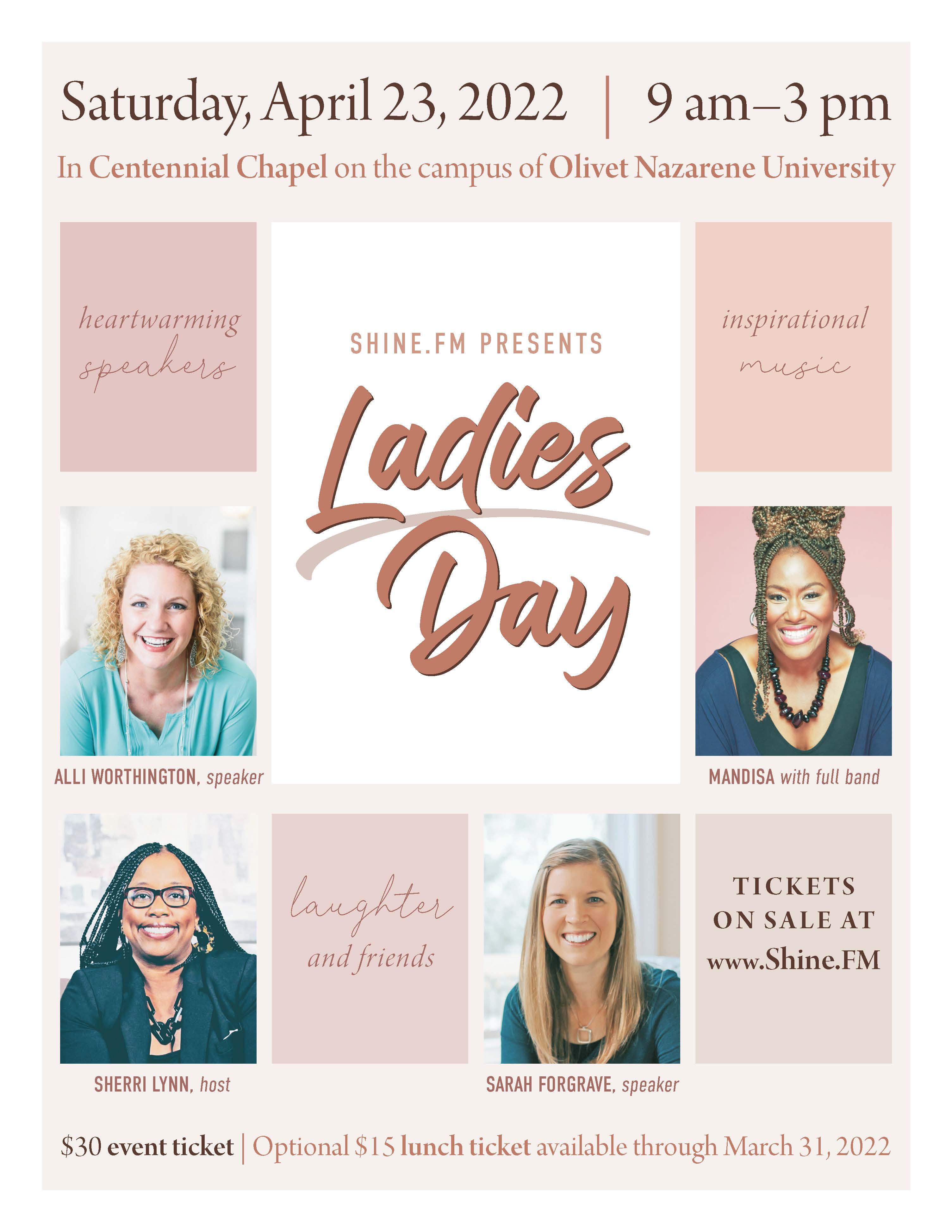 We're thrilled to invite you to a morning filled with heartwarming speakers, inspirational music from Mandisa, and a luncheon full of laughter and friends at Ladies Day 2022!
•    Date:  April 23, 2022
•    Time: 9am -3pm with a lunch break around 11:30am
•    Location: Centennial Chapel on the campus of Olivet Nazarene
•    Price: $30-$45
•    Speakers: Alli Worthington and Sarah Forgrave
•    Performer: Mandisa
•    Host: Sherri Lynn from Brant & Sherri in the Morning
Sarah Forgrave is an author and speaker who has authored two prayer devotionals, Prayers for Hope and Healing and Prayers of Hope for Caregivers. She is also a contributing author to several book collections, including Guideposts' A Cup of Christmas Cheer and the devotional journal, Where Are You, God? During the work week, she is a writer and editor at a church in her community, and she loves encouraging others toward a deeper faith in God and His Word. Outside of writing and speaking, Sarah is the mom of two active kids and the wife of an entrepreneur. She can usually be found cheering on her kids at golf matches or piano recitals. When she has a moment to herself, she loves to hide away with a good book and a cup of coffee. Visit Sarah at www.sarahforgrave.com.
Alli Worthington wears many hats: mom, coach, speaker, overcomer, and podcaster. She has authored books such as Breaking Busy: How to Find Peace and Purpose in a World of Crazy and Fierce Faith: A Woman's Guide to Fighting Fear, Wrestling Worry and Overcoming Anxiety. She is passionate about helping women succeed in their careers and business pursuits through her coaching. Alli says, "In everything I do, my mission is to help you grow a fierce faith, build your dreams, and ultimately love your life! And that mission is why I LOVE what I do - whether that's speaking at a conference, writing my latest book, in one-on-one business coaching, or interviewing a guest for my podcast! I'm here for you friend, because I believe in you! I'm a wife and mother of 5 boys (yes 5!), and a rescued dog. We live outside of Nashville, TN and just about every flat surface in our house is taken up with a book, athletic equipment, legos and (quite possibly) a little dog hair."  For more information on Alli, visit https://alliworthington.com/
"Olivet Nazarene University follows the guidelines of the Illinois Board of Higher Education. Vaccines are not required for entry.  Masks are optional."
Call for Tickets at 800-965-9324
Get directions
Return to Events