Date:
August 21, 2021 3:00 pm - 7:00 pm
Location:
7950 Marshall St. Merrillville, IN
Details:
Love classic cars? Or have a car you'd like to show off? Trinity Memorial Lutheran Church of Merrillville is hosting the "Oldies But Goodies" Car Show as a youth fundraiser on Saturday, August 21st, from 3 to 7 p.m. Cost is $20 per car entry. There's no charge to come and see the cars and vote for your favorites. Plus enjoy food, music, raffles and more! Trinity Memorial is located at US 30 & Marshall in Merrillville, IN.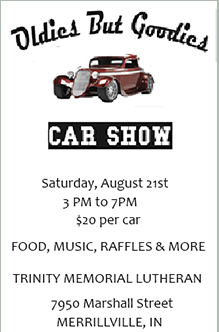 Return to Events